Oil management

Solutions to

manage your production challenges
Our smart, electrically powered, super efficient, down well progressive cavity pump reduces production costs
Production costs
With low and volatile oil prices, keeping control of operating costs has never been more important. Servicing of equipment and general operating costs can turn slim profits into losses very quickly.
Infrastructure independence
The costs of installing and maintaining grid power infrastructure or running diesel generators can make existing wells or new leases unattractive for production. Pumping oil without infrastructure or operating cost is a real differentiator.
Being in control
Knowing what your pumps are doing, monitoring production volumes, seeing tank and well levels all help to manage costs. If you can do this without visiting site you are really in control.
Increasing yields
Getting the most from your operations is critical to success. The ability to control exactly what a pump is doing, reacting to changes in the production volumes and doing this simply is very important.
Significantly reduced operating costs
Progressive Cavity Pumps (PCP) are well known in the oil industry for their reliability and effectiveness. The LORENTZ oil pump design brings all of the benefits of the PCP and makes it available as a down well solution for smaller production volumes.
The LORENTZ system has been developed based on over 25 years experience of pumping challenges in the harshest conditions around the world.
With the LORENTZ solution there are no above ground moving parts, no wearing items to replace, no scheduled service intervals, no broken rods or pulling of pumps for cleaning.
CONNECTED
The pump controller constantly records operational data and provides access to rich information for the operator.
The flow can be infinitely controlled, interval and time of day timers can be set and other sensor data can be used to ensure the pump system can get the best yield from the well.
The controller can also be connected to our LORENTZ Global managed service. This is a simple, cloud delivered, pay monthly service that takes away the complexity of remote monitoring and management. One low fee means that you can see exactly what the system is doing, make changes to settings and receive alerts irrespective of location.
Power choices
The LORENTZ system uses a unique DC brushless and sensorless motor named ECDRIVE.
ECDRIVE is very efficent which gives you the option to run your pump on solar power. This means that without any power infrastructure, running of power lines or negotiation of easements you can pump oil anywhere.
The system can also run on grid power where high efficiency means lower power consumption, lower utility bills and cool running for a long life.
A complete solution
LORENTZ designs our products to be a complete solution, this means that you have all of the hardware and software you need to control, monitor and manage your pumping operations.
The controller has eight sensor inputs that allow analogue and digital sensors to be connected. This combination of sensors with the powerful inbuilt software applications allows for full pump control and based on flow, pressure, fluid levels or daily pumping amounts.
PS2 is a complete solution "out of the box" without the need for building additional switching cabinets or PLC units.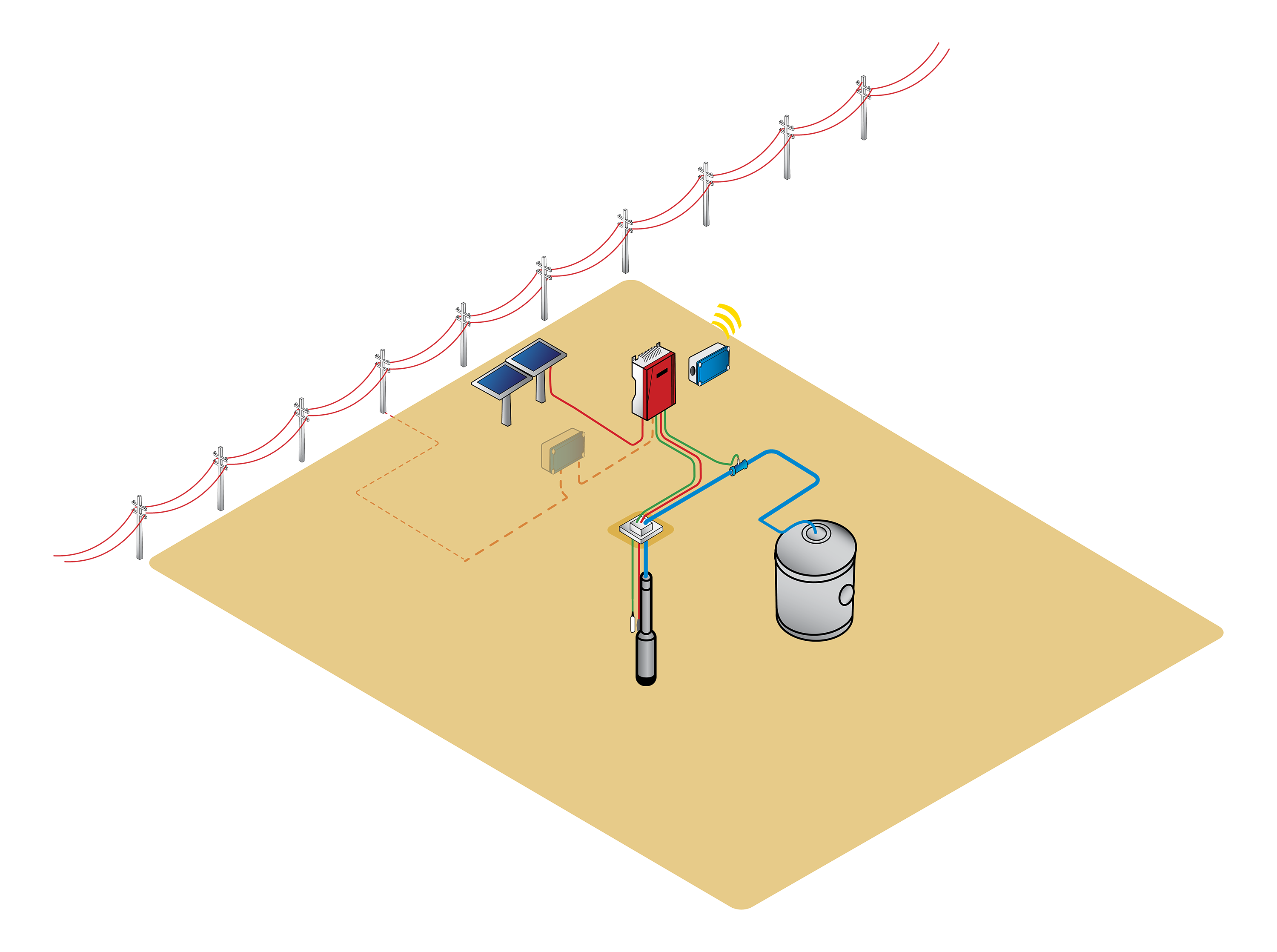 CONNECTED
Remote monitoring and control
LORENTZ Global provides a simple and cost effective solution to manage and monitor your LORENTZ leachate systems from anywhere in the world!
The platform serves a wide range of customers from a single pump on a site to a global network of pumping systems and storage tanks.
Performance and compliance data is recorded and can be automatically exported to external systems for incorporation into other platforms.
LORENTZ Global is an easy to use, cloud based, pay monthly service that takes away the complexity of remote monitoring and management. Access to real-time data and configuration settings allows you to get the most out of any application while at the same time reducing maintenance trips and improving customer service.
Full consolidation of data across sites is provided to complement the detailed information on fluid levels, pressures, pumped volumes, power consumption, temperatures and other critical application information.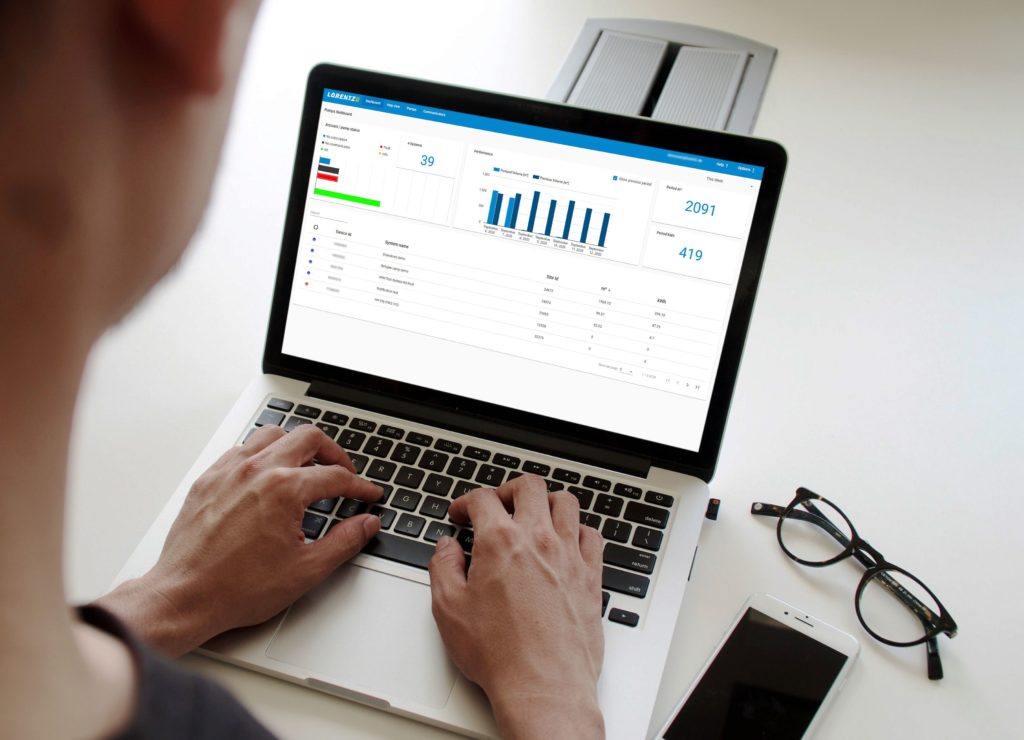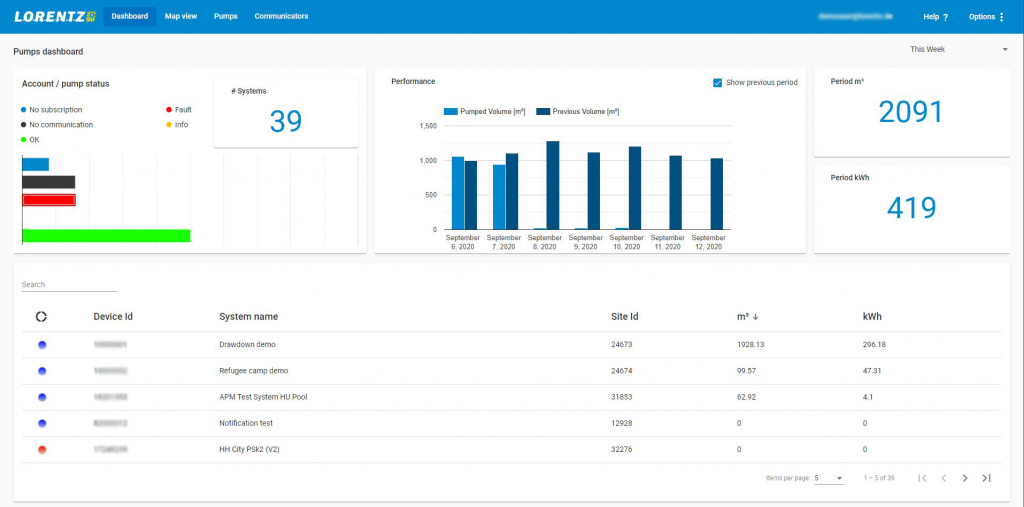 Use the dashboard view to monitor your systems in real time
Access all of your systems, pump status and performance conveniently on one dashboard
Drill down to see what each system is doing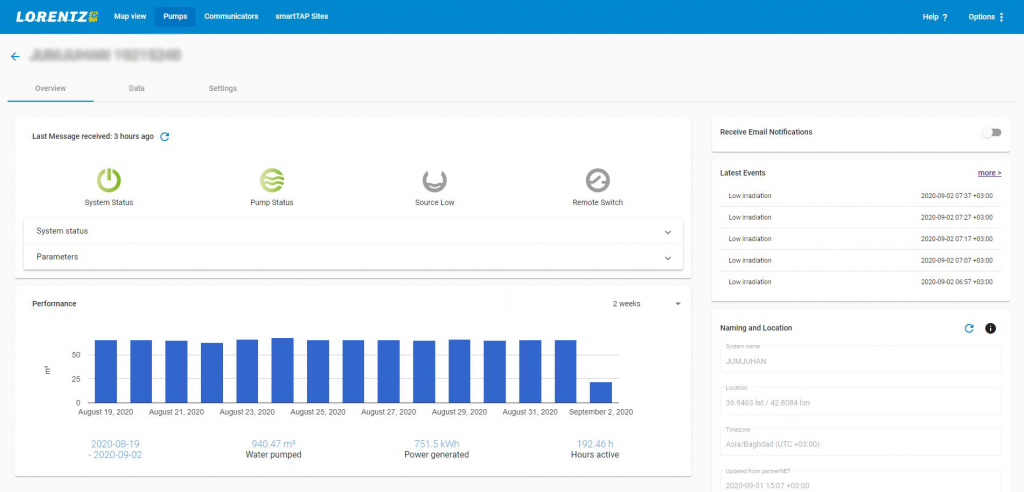 Data at your fingertips to monitor system performance
Access system information including live pump status, liquid pumped, power generated, hours active and much more.
All status events are tracked and it is easy to compare data across time periods.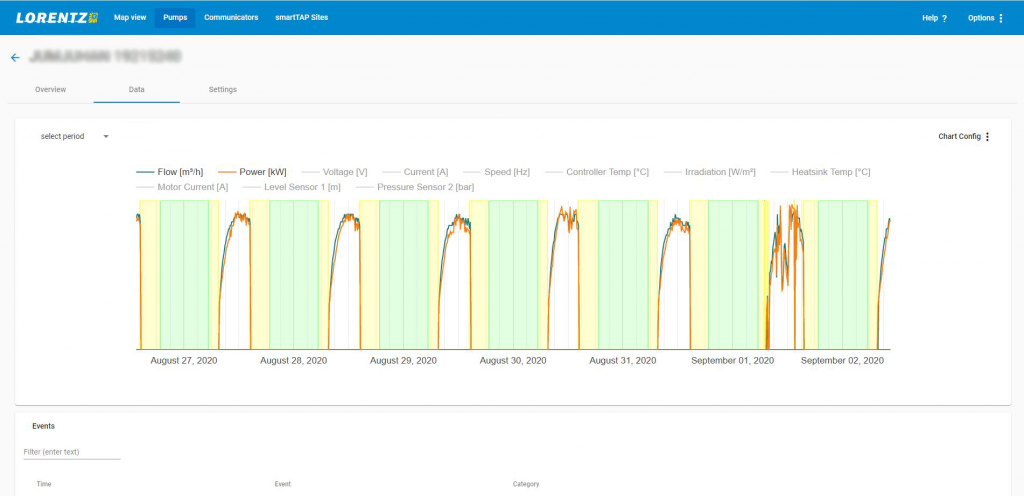 Get into the details when you need to
You can see values and trends for system voltages, current, power, temperature, irradiation and levels from pressure and level sensors.
Full system configuration is available remotely.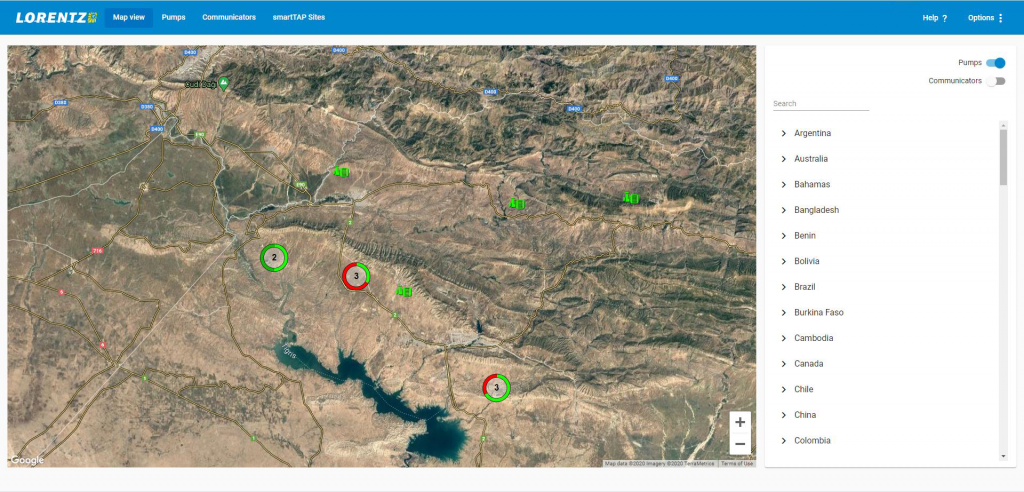 Active alerts and a map view
LORENTZ Global will send fully configurable pro-active alerts via email.
The map view complements this to let you visualize the status of your systems.