Leachate management
Pumping solutions to manage landfill leachate and

condensate
A better way to extract landfill liquids in sideslope risers, vertical wells and sump applications
Designed to provide the lowest operational costs
Robust progressive cavity pumps with high

efficiency DC brushless

motors and intelligent

control systems

Pumping automation based on sensor data with

data logging and remote

management

 

Inbuilt IO with analog and digital sensors

for monitoring levels, pressures and flows

Power choices, including

solar, generator or grid to provide solutions

anywhere
LORENTZ leachate pump systems
LORENTZ high efficiency, intelligent leachate pumping solutions bring an innovative but well proven approach to the market.
LORENTZ pumps handle a wide range of fluids and remove many of the service challenges of both air pumps and non specialized electric submersibles and so reduce your operating costs.
The controls and sensor inputs allow for automatic measurement and management of liquid levels and pressures further reducing costs.
The systems are so efficient that you have power choices, allowing you to run from small grid, generators or solar power.

The challenges
Managing leachate presents two main challenges.
How do you

meet compliance requirements

and environmental management

responsibilities?

How can you keep your

operational costs under control?
The solution
Combining a well proven helical rotor pump (progressive cavity pump) with an ultra efficient DC brushless motor and an advanced controller provides the solution.
The HR pump can cope with varying conditions that other pumps can't. This results in significantly less maintenance and service visits. The motor is so efficient at any speed that you have choices of how to power it, including solar power.
Built in monitoring, not only of the pump, but also external sensors provides you with a ready integrated monitoring and management system for leachate.
LORENTZ products differentiate themselves from the competition with the attention to engineering, choice of materials for hostile conditions, integrated management applications, excellent manufacturing standards and exceptional levels of testing of every manufactured product. CONNECTED
Remote monitoring and control
LORENTZ Global provides a simple and cost effective solution to manage and monitor your LORENTZ leachate systems from anywhere in the world!
The platform serves a wide range of customers from a single pump on a site to a global network of pumping systems and storage tanks.
Performance and compliance data is recorded and can be automatically exported to external systems for incorporation into other platforms.
LORENTZ Global is an easy to use, cloud based, pay monthly service that takes away the complexity of remote monitoring and management. Access to real-time data and configuration settings allows you to get the most out of any application while at the same time reducing maintenance trips and improving customer service.
Full consolidation of data across sites is provided to complement the detailed information on fluid levels, pressures, pumped volumes, power consumption, temperatures and other critical application information.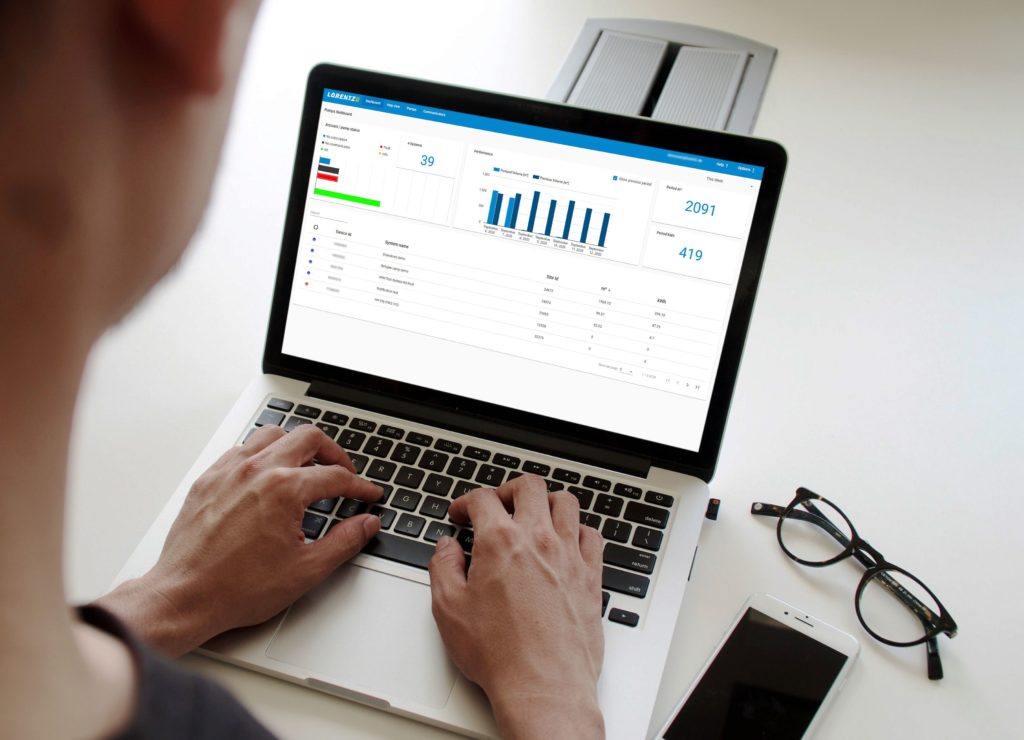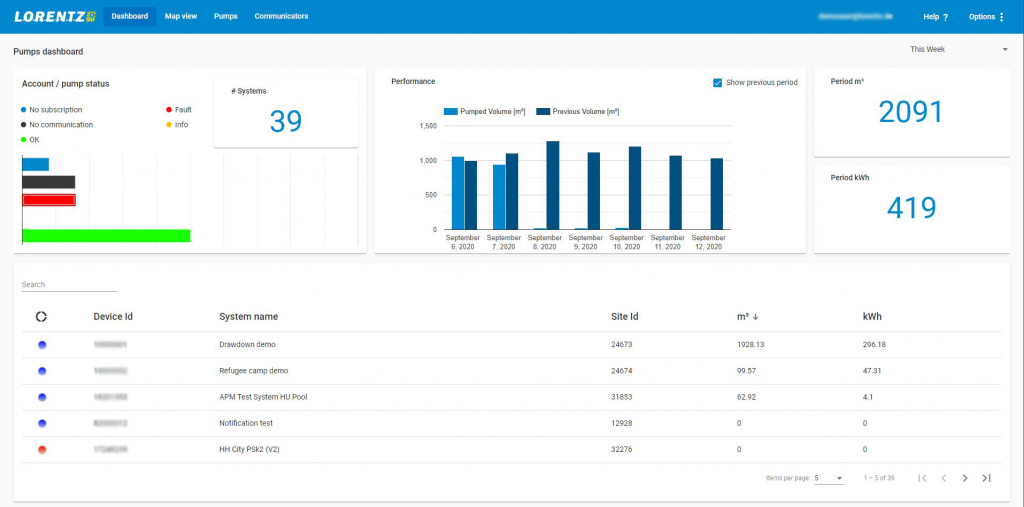 Use the dashboard view to monitor your systems in real time
Access all of your systems, pump status and performance conveniently on one dashboard
Drill down to see what each system is doing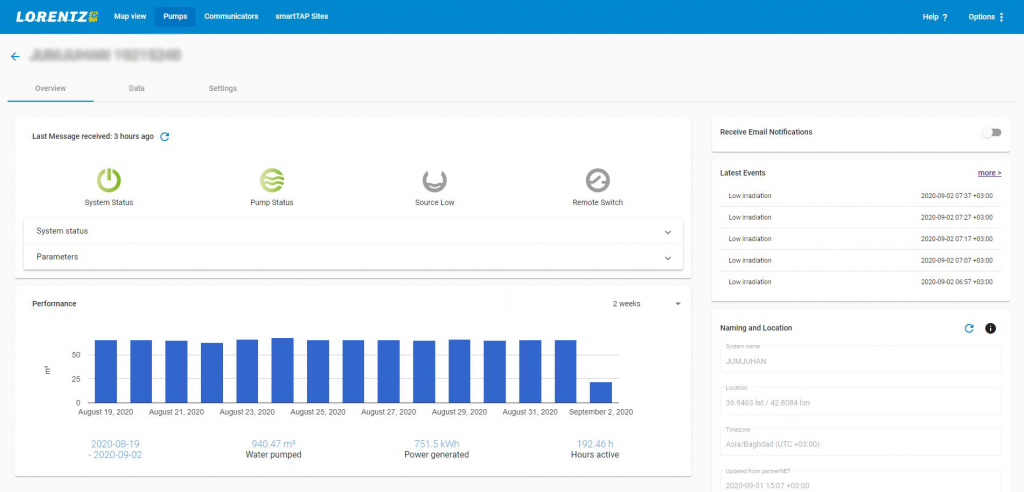 Data at your fingertips to monitor system performance
Access system information including live pump status, liquid pumped, power generated, hours active and much more.
All status events are tracked and it is easy to compare data across time periods.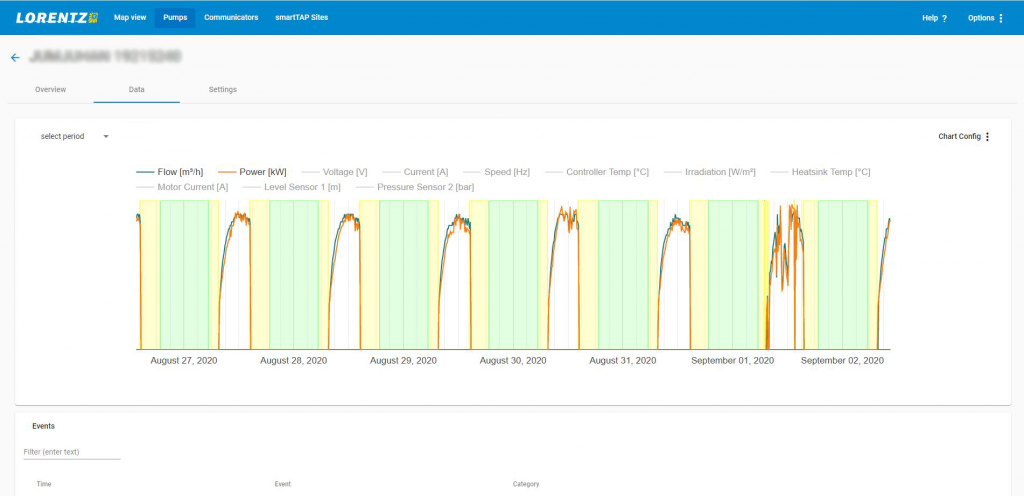 Get into the details when you need to
You can see values and trends for system voltages, current, power, temperature, irradiation and levels from pressure and level sensors.
Full system configuration is available remotely.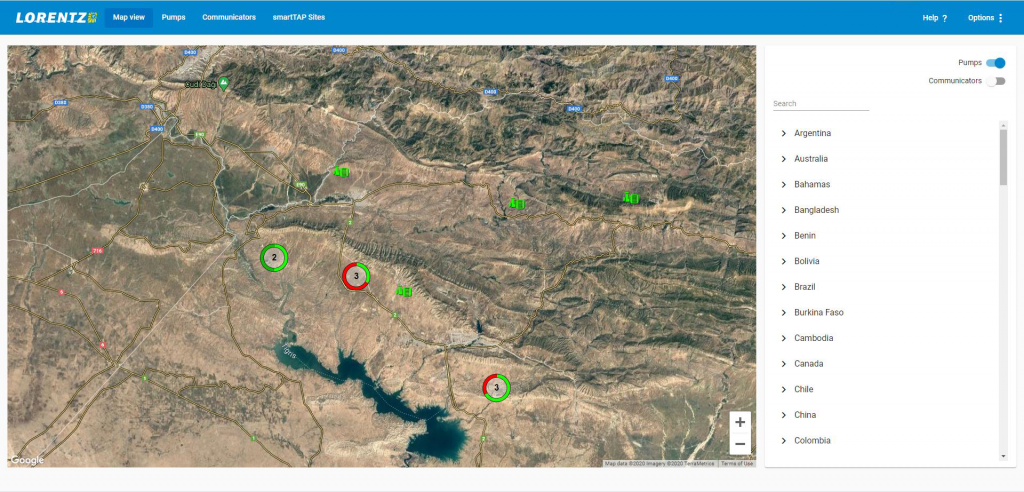 Active alerts and a map view
LORENTZ Global will send fully configurable pro-active alerts via email.
The map view complements this to let you visualize the status of your systems.